Given

Hat and Scarf for Dad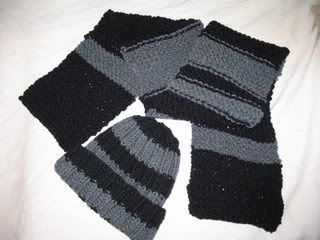 Yarn: Lion Brand Kool Wool (I think it's discontinued which sucks because it's a really sprongy yarn)
Needles: 10 1/2 for hat, 13 for scarf
Pattern: Hat -
Watch Me
, with regular stripes.
Scarf: rectangle with random stripes.
For some reason I had a much harder time with the scarf then the hat. Too narrow, to wide, not enough grey, too stripey, not stripey enough, blah, blah, blah.
A table runner and napkin rings for Patty.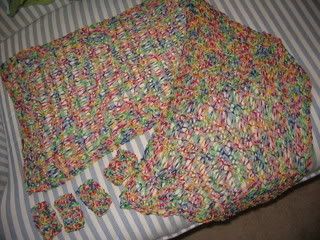 Yarn: Cascade Bollicine Taormina in the Picnic colorway (won at
Tempe Yarn and Fiber's
Holiday De-stresser SnB)
Needles: Wood 12's borrowed from
Mel
(Thanks!)for runner
Hook: H for rings
Pattern: Runner - rectangle with drop stitches. Some rows got one yarn over, some got two.
Rings: Small rectangles, alternating single and double crochet. Seamed.
A close-up of the drop stitches.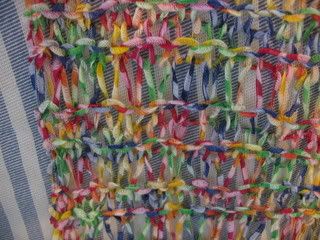 A bag for Patty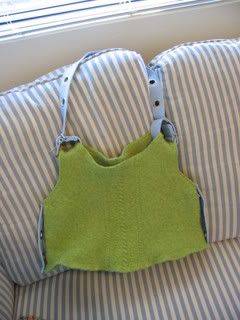 Side view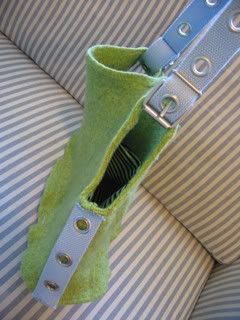 Materials: A wool sweater, felted. Sleeves removed and used for base of bag. Lined. Handle and decoration - belts found in the Closet of Yarn and Accessories by
Steve
. One side is attached regularly, the other is sewn together so the buckle would go in the right direction.
Those were the projects that were keeping me busy in the beginning of October. Also, I was making minions for the work Halloween party I was too sick to go to.
Received
Then my birthday rolled around and I got stuff. Lots and lots of stuff! Stuff from family, stuff from friends, stuff from Goodwill. Stuff so I'd look like other stuff.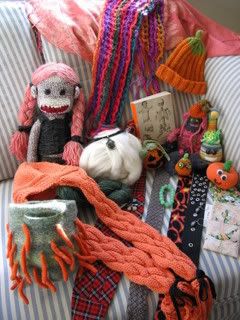 Contained in the picture, in no particular order:
- A pinkish-orangey pashmina from Patty.
- A crocheted scarf from
Lucy
(her first crocheted FO. Standing O for Lucy!)
- A big ball of merino-tencel fiber from
Mel
for me to spin and dye.
- A retro flower necklace and green bead bracelet from Patty.
- The book
Mutants: On Genetic Variety and the Human Body
by Armand Marie Leroi from Patty.
- My sock monkey Pricilla and a hat/wig combo from
Illanna
so I can pretend to be Pricilla's big monkey sister.
- A felted bag that 1) looks like a sea anemone one one side and 2) looks like it's full of Cheetos when it's reversed from
Kiki
. Yes it's supposed to look like Cheetos. I am the bearer of Cheetos.
- Skull stitch markers from
Steve
.
- A skein of
Jess's
first handspun yarn, made from one of
Stephanie's
batts in Moss. And some handmade stitch markers from Jess.
- Four quilted coaster with roadrunners and cacti on them from my Mom.
- Three belts and one plaid cummerbund from Goodwill to be used in purses (probably).
- One pumpkin hat (previously made).
- One psycho gourd.
- One desk pumpkin with a sneer.
- One happy goofy pumpkin.
- One hypno-pumpkin.
- One doll made by
Lily
as her first crochet project. Comes complete with iPod, boots and a pumpkin hat. (Standing O for Lily!)
Thank you everyone. I'm continually amazed by your generosity and talent. And it's nice to know I can spread the insidious plague of crochet to unsuspecting youngsters.
Halloween
Any guesses on what my Halloween costume was going to be?
Don't fret, I'll tell you.
I was going to be the Great Pumpkin. And I'd have minions to do my bidding:
Gordelina
, Sneery, Goofy, Hypno and, last but not least, the (iPod wielding, stompy boot wearing, tiny pumpkin hat donning) Pretty Darn Good Pumpkin as my first lieutenant. Maybe next year we'll be able to take over the world.
Or maybe I'll be a monkey's uncle instead.