See I told you I still knit and/or crochet.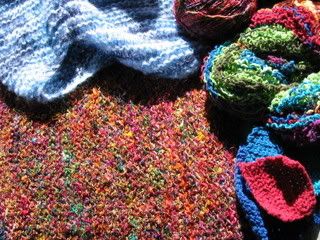 All items WsIP:
Variegated blue square wrap. I had made a triangular one but it was too small for my liking so it went to my sister as a large scarf. Which she needed because it's been a tad bit chilly in DC lately.
Recycled sweater, cotton-acrylic (I think). Being converted into various squares that will eventually be combined into a baby blanket.
Recycled silk. This section is the bottom part of an Einstein Coat (Sally Melville,
The Knitting Experience Book 1: The Knit Stitch
) with some variations of my own. It will be a heavy coat but hopefully it will look pretty cool.
Also on the hooks: a small heart (I haven't forgotten
Eva and Ed
) and a large heart. The large heart is for me, because when I took
my old one
into work (for a small protest against the cloying-ness of VD) a co-worker fell in love with it and took to carrying it around like a small child so I traded it to her for lunch (she's going to buy me lunch, not eat the heart for lunch. That would just be weird). I know it's going to a good home where it will be loved, admired and appreciated in the absurd way it deserves. And I think I can make a better one this time.