...playing catch-up.

1. I survived the root canal although I don't remember much of Wednesday. There are holes in my memory from even 12 hours after taking the sedative. If I spoke to you on the phone during that time, there's a good chance I sounded coherent but I probably don't recall the conversation. And I sure as hell don't remember the majority of what I posted that day. Ill-advisedly, I took a pain pill prior to going to bed and spent the next 6 hours wide awake and kind of hallucinating. I'm going to try and avoid both those medications in the future, if possible. Memento-esque and pseudo-schizophrenic is no way to go through life.

2. Thursday was relatively pain-free. Friday I managed to break off a chunk of temporary filling while eating scrambled eggs. My tooth is now pointy and I'm getting a callus on my tongue. I go back in Tuesday to fix that, then again the week after to "rebuild" the tooth (I'm hoping for a bionic one), then two more times for the crown fitting and the crown. At that point, I will have been to the dentist every week for about two months. That's just way too much dentist.

3. I finally started spinning again. I can't remember if I mentioned my shoulder tendinitis and subsequent PT sessions but they happened and it made holding the drop spindle much harder than it should have been. Also, loose fiber and pneumonia didn't seem like a good combination. Anyway - I spun: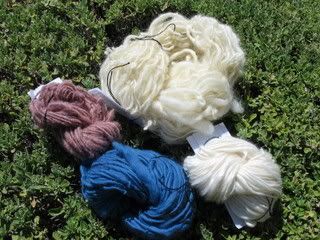 Clockwise - Cotswold/Wesley Dale from the
Lancaster Quilt and Textile Museum
, Merino/tencel from
Tempe Yarn and Fiber
by way of
Mel
, blue wool from TYF and pink wool from the Quilt Museum. Some has been soaked and stretched, none have been plied. The merino/tencel is by far the easiest to spin and I have a large amount of the fiber left.
4. Yay me.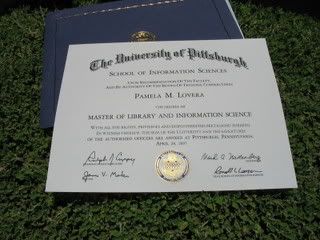 5. The shawls my aunt sent me arrived and I finished one of my own.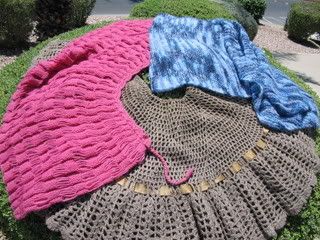 Clockwise: another variegated blue shawl made by me (mohair-like acrylic, rectangle with pointed ends), brown semi-circle with ribbon, pink rectangle gathered along one side.
As I said before, the brown and the pink were made by one or both of my great-grandmas on my dad's side of the family. No one is sure if it was Big Grandma or Little Grandma. Both of them were made prior to 1971. (Big Grandma wasn't really that big, it's just that Little Grandma was very, very little.)
Brown cape. This one needs a little repair along the top.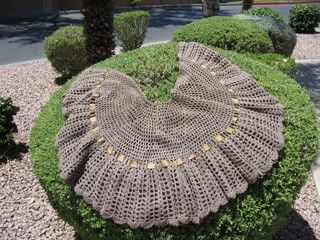 Close-up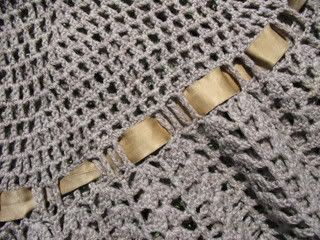 Pink cape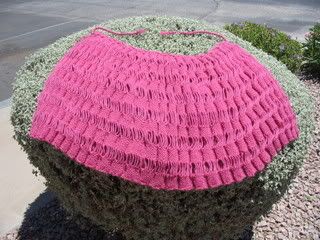 Close-up. Doesn't this remind you of the
Clapotis
?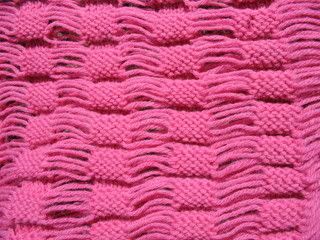 6. A belated picture of a belated birthday present from
Steve
. Meet Princess Anastasia and
Schmooburt
. The Princess also has a wrap for when it gets chilly and replaceable hands for any occasion.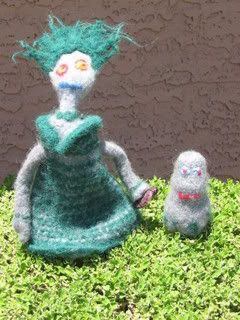 7. The fiber loot I got when I was home in April.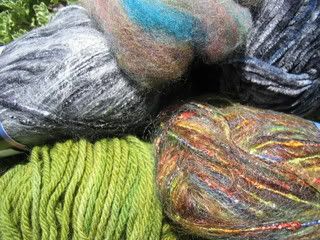 Clockwise: Hand dyed Lancaster County-raised wool fiber (quarter pound), Lion Brand Suede in Moonshadow (2 balls), Lion Brand Moonlight Mohair in Rain Forest (6 balls), hand dyed, handspun Lancaster County-raised 50% alpaca, 50% wool in Spring (125 yards), Moonlight Mohair in Tundra (6 balls).
We went to two stores,
Labadie Looms
which had some gorgeous stuff and
Ollie's
(sound), a dingy, dirty store like Big Lots or Tuesday Morning which happened to have Suede for $1 and Moonlight Mohair for $2. Two very different shopping experiences but the end results were good.
OK, I think I'm caught up on past happenings. Now I just have to stay current. Ha. I crack myself up sometimes.