H is a co-worker of mine. I don't know him that well but all of my interactions with him have been pleasant enough. He's about my age, has a wife and two little boys. He organizes and rides in the company bike-a-thon each March.

About two months ago H noticed he was losing weight and feeling tired all the time so he went to the doctor to get checked out.

H was diagnosed with Stage 4 Non-Hodgkin's lymphoma.

The company set up a fund for monetary donations and are allowing employees to donate vacation days. I can't do either - since the student loan money has been spent my disposable income level is zero and I only have 4.85 vacation days and you need to retain at least 5 for yourself.

But I can knit.

I decided to make him a hat. He'll be losing his hair soon enough and even in Arizona your head can get chilly if you're used to having hair. So I found some blue cotton and I made a ribbed watch cap.

And then I though about his boys, how confused and scared they must be with their daddy going through all this. And I made them each a hat so they could be just like Dad. And then I thought of his wife and how she's probably just as scared and confused as the boys. So I made her one too.


I know the feeling you get when you're told you have cancer. I know the copper taste of fear in your mouth and the weakness in your legs. I know how everything is suddenly different and how much you need your family to stay the same. I know but I don't know.
I can't compare my experience with H's. My time with cancer was almost over before it began. It wasn't fun, it wasn't easy and I wouldn't want to repeat it, but it's over.
H's fight is just beginning. It's not going to be short and it's not going to be easy but he'll have his family with him. Supporting him. Helping him. Fighting for him. All together. With matching hats.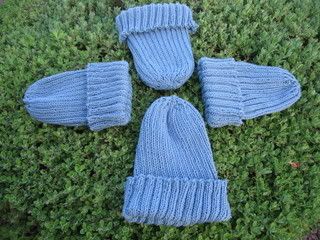 If you would, please keep H and his family in your thoughts.