I was a bit stymied about what to get/make Kiki for her birthday. The woman is a prolific, creative and quick knitter and between her, her knitty husband and two knitty kids it's not like they're lacking in knitwear of any type.

So I did an end run around the knitting and crocheted something.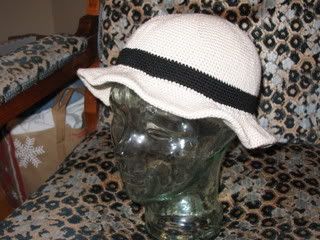 The Soft Brim Casual Hat
. From the Woman's Day 1947 Crochet Annual. Directed from the always awesome
Crochet Pattern Central
.
Yarn - Size 10 cotton thread, doubled. Ecru and Black.
Hook - F
I only made a few modifications. Size 10 thread instead of 5 and an F instead of a 1 hook because I was working from the stash. I even used the same colors as the pattern. I might be getting soft in my old age.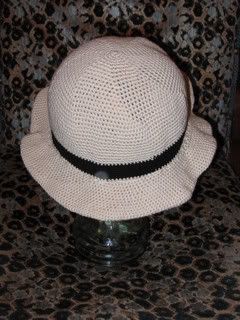 I did spiral the increases so the brim didn't have pointy parts but looking at the picture, I think the designer may have as well. I have a few ideas for embellishments but I ran out of time this go-round. In proper knitterly fashion, this was presented still damp and blocking. Other knitters understand...
I really enjoyed making this. It was relatively quick and because the brim is doubled it's not too floppy. I'll definitely be making more of them, especially since I have about 10 balls of ecru thread, 4 balls of black, one green and one pale blue. It may be an Ecru Hat Christmas all around.