We got our painted pottery back last night, picked up by the lovely Miss Anna. Who didn't bring her or Forrest's finished projects. Silly girl, how am I supposed to document it if I can't see it?

Here's the gang hanging at the Coffee Cabana (with Forrest looking like the studmuffin he is). L to R: Melanie, Forrest, Anna.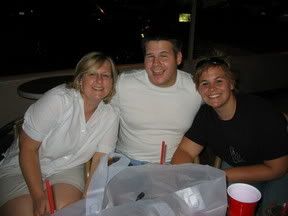 Lucy spent the night under the table.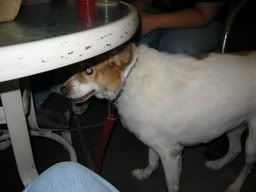 Looking for love. And food.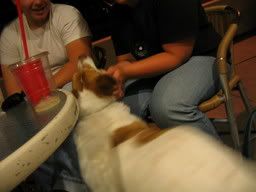 Hopefully Mel will have some pictures of her really nifty, sparkly toothbrush holder. Here's my fish box.

Inside and top (A wobbly starfish and one Pepperidge Farm-like non-gold fish)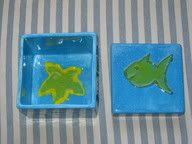 Side 1 (I love crabs, they're so happy.)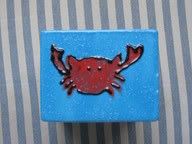 Side 2 (It's a fantail something or other)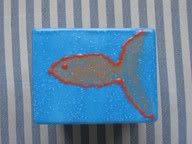 Side 3 (Seahorses are funny-looking. And kinda hard to paint)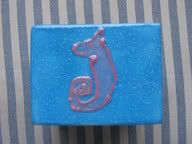 Side 4 (the little fishies didn't work out too good, this side's facing the wall)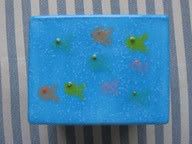 Now I just have to figure out what to put in it.

One more book done.
38. My Sister's Keeper - Jodi Picoult. This was the best book I've read in a while (probably Time Traveler's Wife was the last one.) The story deals with medical ethics and designer babies and family dynamics and leukemia and juvenile delinquents and arson and more. It was excellent. And the end caught me completely by surprise, which doesn't happen often. Y'all should go read it right now. Seriously.

Soon, I'm going to make this T-shirt. And, from the same site, this is very funny.

That's probably enough blather for one day. Except for one thing. Earlier this week I exited my house, turned the corner and a bird flew into my hair. Really, truly. It swiped through the right side of my hair, made a loud fluttery sound, scared the crap out of me and kept right on going. At least I didn't kill this one.

Now, I'm done.