We'll start with an FO.

I started this project in August. I hit the border and froze for a little while. Made from a recycled scarf that was badly gifted to me last Christmas.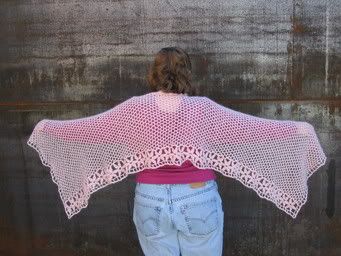 And a close up of the pretty, pretty flowers.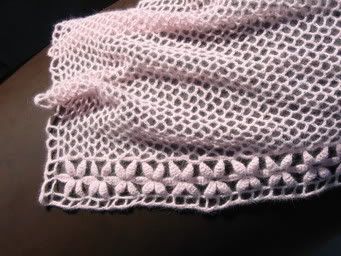 Yarn: 70% angora, 18% wool, 12% nylon.
Pattern: My own
Pictures: Steve Hartley

I sent the Harley-colored hat to my cousin finally. It was gratefully received but will probably not be used as a hunter-deterrent because he thinks hunters need to see more fluorescent orange.

I'm almost done a Cattywhumpus Hat for my aunt but I'm not thrilled with how it's turning out. Tweaking will commence shortly.

Then there's the bag I've been working on. I finished the main body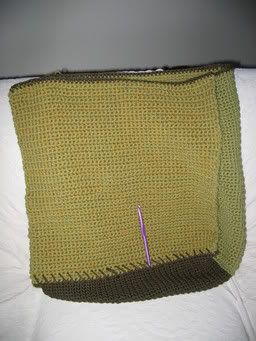 and felted it. I've also felted some flowers that will be sewn to the front.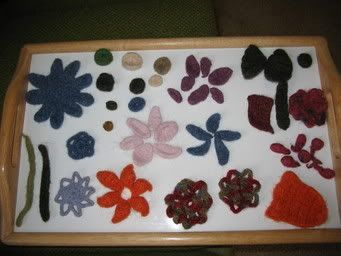 I've actually made a second batch of flowers because I wasn't satisfied with all of these.

Currently I'm working on a cord strap that I just need to figure how to attach.

Finished two more books:
5. Dearly Devoted Dexter - Jeff Lindsay. Still a lot of dark humor but not as good as the first one.

6. Bel Canto - Ann Patchett. An attempted kidnapping that turns into a months-long hostage situation. This is much more of a love and relationship story then you'd think from that description. About halfway thru you realize there is no chance for a happy ending but it's worth reading anyway.

And Lucy just wanted to say Hi.