Dad's Mittens, pre-thumb



Dad's Mittens, post-thumb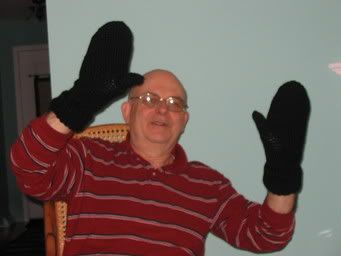 Yarn -Lion Brand Wool-Ease Sportweight in Black
Pattern - not really

Sister's Blanket, Little Bit of Sister's Head and Christmas Tree



Yarn - Lion Brand Homespun - many different colors
Pattern - many little granny squares arranged in somewhat random order.

Mom's Socks, Modeled by Me and Guarded by Lucy



Yarn - Sockotta for body, Plymouth Yarn's Wildflower DK for Toes and Heels
Pattern - nope

Mom's New Scarf to Replace Poodle with Mange Scarf from last year.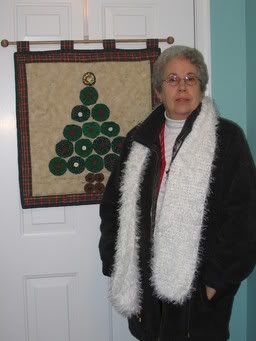 Yarn - Lion Brand Fun Fur and some type of white baby yarn with sparkly stuff.
Pattern - a rectangle

My Mobius Scarf arranged with Glass Swirly Buttons from Sis



Yarn - some fancy-pants wool that I lost the label for. Eva may remember, since I got it from her at the SnB party.
Pattern - rectangle with twist and seam

Another Earflap Hat, this one for the Tester/Back-up Recipient of the Previous Earflap Hat and a Camera Case for my Aunt. Pre-felting.



Hat
Yarn - SWTC Karaoke, Paton's Classic Wool in Orange and Brown
Pattern - Extreme Earflap Hat, Tiffany Reynolds in Interweave Knits Crochet Fall 2005

Camera Case
Yarn - The Never-Ending Cone of SWTC Karaoke
Pattern - rectangle with fold, seams and buttonhole

Hat and Case after Felting, with button. Anika sweater. Replacement Hat for cousin.



Sweater
Yarn - SWTC Beyond, I call the color Sage Green but it could almost be Dusty Miller.
Pattern - Anika Sweater from Cool Crochet by Melissa Leapman (plus a few inches at the bottom).

Replacement Hat (made to make amends for this hat, from last year)
Yarn - Wool-Ease? in Black doubled, Lamb's Pride Bulky in Orange You Glad, Cotton-Ease in Pineapple doubled (i.e. Harley Davidson colors, or at least as close as I could get with the existing stash.)
Pattern - nyet.

Sister, Cousin and Me (in Anika)



He had to grow the beard and hair for work. He's at a desk job now so he should be looking a bit better groomed by now.

And that was how I spent my Christmas vacation.