Some more FOs have been ... F'ed. That doesn't sound right.

Anyway, prepare yourself for a plethora of neck ware.


Mom's Baltic Sea Stole Take 1

A better picture this time, taken on the avacado Danish Modern armchair that's been in the family as long as I have. There's a matching couch on the other side of the room.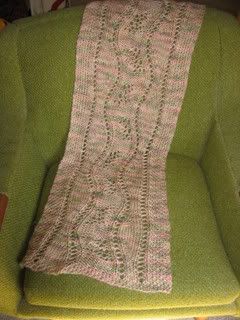 Take 2 is starting today. Same pattern, different yarn - SWTC Bamboo in a variegated green/silver/brown kind of shade. It's DK weight and I have enough of it to actually follow the pattern this time.
A scarf for Bernice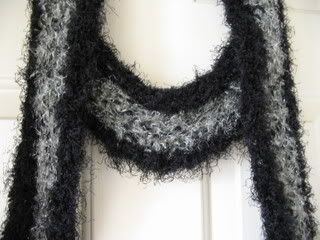 No reason except Bernice likes bling (She said so herself. In those words. I love Bernice.) It was done lenghtwise with Paton's Allure in black and some fuzzy silvery SWTC yarn that has apparently been discontinued since I can't find its name on their site.
A shawl for my sister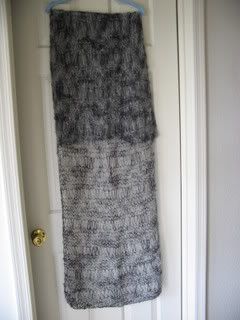 Once again, no specific reason except my Mom thought Pat needed a shawl and I always listen to my mama.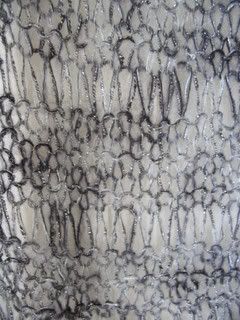 Done in the Official Patty Stitch, otherwise known as the drop stitch. Her
birthday present
used the same stitch.
Lion Brand Moonlight Mohair in Tundra. This was the yarn I got in PA at the odd lots store for $2 a ball. 3 skeins = $6 shawl. A far cry from Mom's $42 one. And a heck of a lot quicker.
Next Os to get F'ed
: Baltic Sea Stole Take 2 and a hat. And the black beaded shawl. And some other's that I'm blanking on right now. There's a lot of them and not all are shawls if you can wrap your mind around that concept.