I'm not a kitchen-oriented person. I don't spend much time in there and I certainly don't have all the fancy tools. But it was my month to host book club (the month being January) and I needed to make something.

We had read To Kill A Mockingbird and it's an unofficial rule that the host tries to match the food to the book. Since learning how to southern fry chicken seemed beyond my capabilities, I decided to make a cake. Specifically a Lane cake, which is mentioned in the book as being Miss Maudie's specialty. I did my research like a good little librarian and ended up combining about 4 different recipes.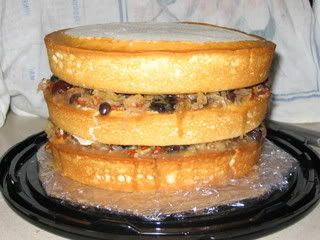 Three layers of white cake (from a box)
Butter creme frosting (from a can)
(I was curious, not crazy)
Filling contained coconut, pineapple, raisins, dried cherries, pecans, sugar, 8 egg yolks, a large amount of butter and a healthy helping of bourbon.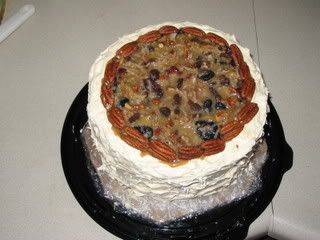 My presentation wouldn't have made Martha very happy, but I made due with what I had (and what
Kiki and Steve
lent me (hurray for ice cream cake packaging).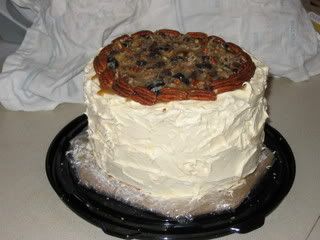 The final results seemed to be well received, as was the junior version I made from the leftovers and took to work.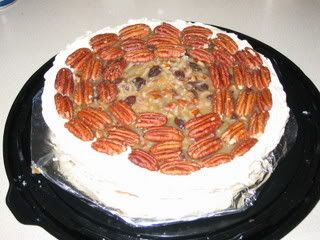 I was a little concerned about the ethics of taking a liquor soaked cake to work but then I remembered the office Christmas party and figured their alcohol tolerance was high enough to handle it.
The leftover ingredients were put to good use: the pineapple went on a pizza, the raisins went in my belly and Lucy polished off the coconut, cherries and pecans during her
kitchen
rampaging
.
Of course, I still have 3/4 of a bottle of Heritage Bourbon Whiskey (bottled especially for
Albertson's
) left over. It's not a brand that inspires the desire to tipple. I may be forced to make another cake. Or maybe I could host a night of drunken knitting.